This site is optimized to run under Internet Explorer 4.0 and above.
For best viewing, set your video resolution to 800x600 pixels
(16 bit/24 bit color/32 bit).er
For inquiries & suggestions, contact the
Web Developer
© Copyright 2001 www.paradise.resort.tripod.com
All Rights Reserved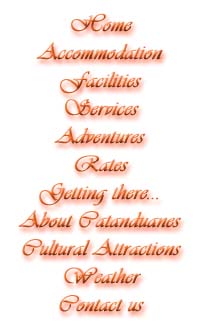 Option 2: BY LAND AND WATER
Take the bus pying Manila to Tobaco, jump off at Tobaco Port, you may board either MV Eugenia, Star Ferry or MV Regina Calixta. Travel time toll at 3 1/2 hours for MV Eugenia or Star Ferry and docks at Virac Port, while MV Regina Calixta takes only 2 1/2 hours to reach San Andres Port.
Also, TAWTRASCO offers a unique roll-on-roll-off service to its couch passengers on the ferry. Bus station is at Cubao, infront of Alimall.
Location
The Island Province of Catanduanes, a kidney-shaped island at the easternmost fringe of Bicol Peninsula, it is separated from the mainland Bicol by the Maqueda Channel and the Lagonoy Gulf. It is the first landmass of the Philippine Archipelago to kiss the Pacific Ocean, making it directly open to the path of tropical cyclones.
How to get there?
Option 1: BY AIR
Take the direct flight via Asian Spirit from Manila to Virac for one hour and 15 minutes. Emmalyn's Paradise Resort is only 45-minute drive from downtown Virac.