This site is optimized to run under Internet Explorer 4.0 and above.
For best viewing, set your video resolution to 800x600 pixels
(16 bit/24 bit color/32 bit).er
For inquiries & suggestions, contact the
Web Developer
© Copyright 2001 www.paradise.resort.tripod.com
All Rights Reserved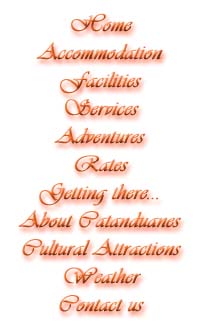 CULTURAL ATTRACTIONS
Kalbaryo. Staged in all parishes the season of Lent or Holy Week, Kalbaryo is actually the reenactment of the Passion of Christ.
Kagharong. A depiction of the rejection by the Jews of Joseph and Mary in their search for a place to stay in anticipating of the delivery of Jesus in the eve of the Nativity. It is held every year during the Yuletide Season.
Padadyaw sa Tinampo. Revived in 1995 as part of the province's foundation anniversary, Padadyaw sa Tinampo is a purely native cultural presentation of street dancing. It brings together for a day-long competition the finest street dancing contingent from the province's eleven towns.
Fiesta Days. Fiestas abound in almost every town or barrio, giving locals and guests the chance to indulge in merrymaking and reunite with loved ones in nostalgic get-togethers.
People Catandunganons. are warm, friendly and hospitable people. They had a long tradition or resiliency amidst troubles and rubbles, be it natural or man-made. They speak the native dialect Bicol, the national language Filipino and the English Language.