This site is optimized to run under Internet Explorer 4.0 and above.
For best viewing, set your video resolution to 800x600 pixels
(16 bit/24 bit color/32 bit).er
For inquiries & suggestions, contact the
Web Developer
© Copyright 2001 www.paradise.resort.tripod.com
All Rights Reserved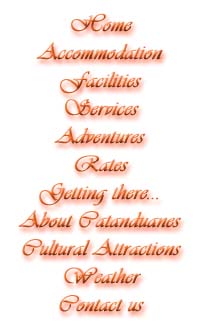 Emmalyn's Paradise Resort is located in the westside of Catanduanes, facing the most famous and Active Mayon Volcano from a safe distance.
A fascinating bathing place where a spring-fed swimming pool, and a beach are all in one place. It boasts of luxurious well-appointed air conditioned cottages, an orchidarium and other facilities. Its complete line of scuba-diving equipment makes it stand out from the rest of the resorts. It is the most freshest and cleanest resort ever visited by the excursionists & adventorous tourists in Catanduanes.
A place where the air is fresh, where the different flowers bloom, where everything is beautiful & everything you want is bountiful. A place of tranquility...A Paradise within Paradise...